answer/question
On my way to work, if I happen to get stopped by the light at 14th and Broadway, there is this sign.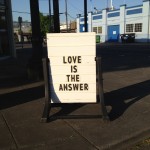 Yes, I believe that love is the answer. But to which question? Who is asking the question? And does "love" always work as an answer or does it just feel like adding, "in bed" to the end of your fortune in your cookie?
Not to sound condescending or arrogant. Maybe a better sign would also have the question so that it's clear what is meant. Or that if you have a question before you ask it you first have to think, is love the answer? If you truly believed that love is an answer you might rethink the question or the intent of your question. Is your question even still important?
How do we end hunger?
How do we fix the economy?
How should we live our lives?
How do we end war and terrorism?
How do we build a strong safe future?
How do we run a company?
How do we run a country?
How do we, how do we, think about someone other than ourself?
All major religious traditions carry basically the same message, that is love, compassion and forgiveness the important thing is they should be part of our daily lives.
Dalai Lama
Love is patient, love is kind. It does not envy, it does not boast, it is not proud. It is not rude, it is not self-seeking, it is not easily angered, it keeps no record of wrongs. Love does not delight in evil but rejoices with the truth. It always protects, always trusts, always hopes, always perseveres. Love never fails. But where there are prophecies, they will cease; where there are tongues, they will be stilled; where there is knowledge, it will pass away.
1 Corinthians 13:4-8
"Life is the first gift, love is the second, and understanding the third." Marge Piercy
"The opposite of love is not hate, it's indifference. The opposite of art is not ugliness, it's indifference. The opposite of faith is not heresy, it's indifference. And the opposite of life is not death, it's indifference." Elie Wiesel
"Love is not a thing to understand. Love is not a thing to feel. Love is not a thing to give and receive. Love is a thing only to become and eternally be." Sri Chinmoy