---
I'd like to write something, but can't seem to get the words together.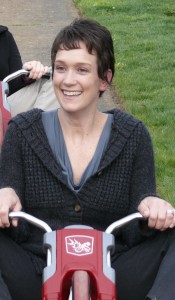 Maybe later…
…okay, its a start.
In my nearly 50 years of life, I have read, experienced and explored many concepts and philosophies of religions. I was raised in a traditional Christian home. For me traditional means right down the middle, neither too much or too little. I for a time in high school, by my own definition, went off the deep end a bit. And became a bit of a zealot passing judgment onto others. Then I woke up. I looked at Judaism, Hinduism, Sufism, A Course In Miracles, Agnosticism, (albeit weak) and Buddhism. Although I have not formerly or officially studied beyond my own exploration, my sensibilities align me somewhere in a Buddhist way of thinking or being. As far as where I am today, a true definition is a bit blurry.
Somewhere along the way I came upon this and copied it down. I sent it to Colette, I believe on the day of her last chemo in August of 2009. She was never afraid of her light. She did not play small. She gave others permission to shine.
"It is our Light, not our Darkness, that most frightens us. We ask ourselves, who am I to be brilliant, gorgeous, talented, fabulous? Actually, who are you NOT to be? You are a child of God. Your playing small does not serve the world. There is nothing enlightening about shrinking so that other people won't feel unsure around you. We were born to make manifest the glory of God that is within us. It is not just in some of us; it is in everyone. As we let our own Light shine, we unconsciously give other people permission to do the same. As we are liberated from our own fear, our presence automatically liberates others." ~Williamson
You are powerful beyond measure. Your beauty is the light that is your strength. You are gorgeous, talented and fabulous. Your confidence cast's aside the insecurities of other. You create such joy.
It was such an honor and privilege to call her friend. She and Michael welcomed me into their home, their family and I am forever changed. And forever dedicated to her children as they grow and become living examples of her love, devotion, confidence, talent and brilliance.
---
"We need other people, not in order to stay alive, but to be fully human: to be affectionate, funny, playful, to be generous. How genuine is my capacity for love if there is no one for me to love, to laugh with, to treat tenderly, to be trusted by? I can love an idea or a vision, but I can't throw my arms around it. Unless there is someone to whom I can give my gifts, in whose hands I can entrust my dreams, who will forgive me my deformities, my aberrations, to whom I can speak the unspeakable, then I am not human, I am a thing, a gadget that works but has no ashes. ~Prather
It's back she said, it was raw and as painful as anything I had heard in a long time. In my mind this isn't how it was to play out.
Bone cancer.
Chemo, surgery, radiation… it was gone. Now it's back
FUCK! (sorry Mom)
This is different. I'm lost to don't know what to do.
I want everyone … to … slow … down.
Let's not race to the next thing.
Let it wait for us.
Let's not spread ourselves thin, let's make it wide.
So what if you are late.
What is it really that we all have to get to?
Where is it that we are going?
And do we really need to hurry?
Stop … Listen … Watch … Breath … Sit.
I love this,
Cleaning for a Reason
---
I know that we can all say, at some point in our lives, "I have this amazing friend." My life's crazy journey crossed the path of another; that I will forever be thanking whom ever I need to for the rest of my life for. Today I cast aside all others and say that no one compares to my friend Colette. And I have some pretty amazing friends! (so temporary apologies to the rest)
On April 6th, Colette got that call that none of us want to get or deserve to get. You have breast cancer. From that moment she went into survival mode like no one I know. (previous post)
On April 17th, with a bottle of wine and the amazing Brenda at Mosiac, Colette, Melissa and I got our haircut and celebrated after with yummy food in The Pearl.
On May 5th she had her first chemo treatment and 4 days later we all walked in the American Cancer Society Making Strides Against Breast Cancer walk.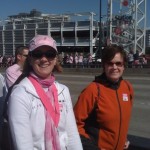 May 21st a second cut.
May 24th, "Ladies, today is the day… No more hair… Michael shaved the rest of it off! I've got a beautiful scarf on, shades and a little sad smile…" And I know that sad little smile won't last too long or that she will allow herself to let many see it. She might.
It makes the pit of my stomach feel that feeling that is so hard to describe. It's not empty, it's not turning, it's up near my throat. It feels like your arm or leg just after it starts to wake up from being asleep from prolonged unusual pressure, heavy.
I've never considered myself a strong person. Although, I do think people think I'm tough. I just am really good at the mask maybe? I don't know what makes me that way, somewhat closed off? I've been amazingly lucky with family and friends to love. With Colette and her family it's no exception. Her strength carries us all. How will I ever repay her for her friendship?
---