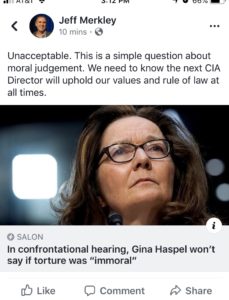 I don't feed the trolls ever. I was tempted this time.
So. She is a woman, I am a woman and that is all that is necessary to accept her unquestionably and say thumbs up and support her?
I think not Steve.
The dumbest argument today.
So. Since she is a woman and I am a woman I should just support her? That how she would handle a crisis situation in times of war shouldn't be questioned male or female? And that by her ideas seem to be diametrically opposed to mine, I can't say no to her because we are both women?
Again – DUMBEST argument today.
Does he accept the actions of every male because he is a male? Maybe? Can I guess by his comment that he voted for Trump and is not a fan of anyone who didn't? I had said, Democrats, but I am hard pressed to say that ONLY Democrats voted for Hilary and that only Republicans voted for Trump.
Would he vote for and support any male just because they are male? I think he may have…